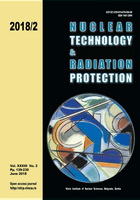 Vol. XXXIII, No. 2, Pp. 139-230
June 2018
UDC 621.039+614.876:504.06
ISSN 1451-3994


Pages: 180-187

Authors: Vojislav Dj. StaniŠ, Borivoj K. AdnadjeviŠ, Suzana I. DimitrijeviŠ, Slavko D. DimoviŠ, Miodrag N. MitriŠ, Bojana B. Zmejkovski, and Slavko SmiljaniŠ

Abstract


Fluorapatite nanopowders with different amounts of fluoride ions were prepared using the surfactant-assisted microwave method under isothermal conditions. Microwave irradiation was applied for the rapid formation of crystals. A micellar solution of polyoxyethylene (23) lauryl ether was used as a regulator of nucleation and crystal growth. Characterization studies from X-ray diffraction, field-emission scaning electron microscopy and Fourier-transform infrared spectra showed that crystals have an apatite structure and particles of all samples are nano size, with an average length of 50 nm and about 15-25 nm in diameter. Antimicrobial studies have demonstrated that synthesized fluorapatite nanopowders exhibit activity against tested pathogens: Escherichia coli, Staphylococcus aureus and Candida albicans. Activity increased with the amount of fluoride ions. The synthesized fluorapatite nanomaterials are promising as materials in environmental protection and medicine for orthopedics and dental restorations.
Key words: fluorapatite, microwave processing, nanopowder, environmental protection
FULL PAPER IN PDF FORMAT (1,16 MB)