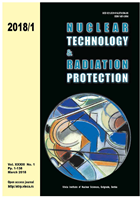 Vol. XXXIII, No. 1, Pp. 1-138
March 2018
UDC 621.039+614.876:504.06
ISSN 1451-3994


Pages: 53-60

Authors: Aldo Parlato, Elio A. Tomarchio, Cristiano Calligaro, and Calogero Pace

Abstract


The methodology, developed for active testing of electronic devices under the radiations, is presented. The test set-up includes a gamma-ray facility, the hardware board/fixtures and the software tools purposely designed and realized. The methodology is so wide-ranging to allow us the verification of different classes of electronic devices, even if only application examples for static random access memory modules are reported.
Key words: testing methodology, electronic device, total ionizing dose, single event effect,
gamma ray
FULL PAPER IN PDF FORMAT (1.16 MB)