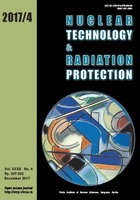 Vol. XXXII, No. 4, Pp. 307-392
December 2017
UDC 621.039+614.876:504.06
ISSN 1451-3994


Pages: 327-333

Authors: Ozan Artun

Abstract


The production process of cobalt-60 was simulated by a particle accelerator in the energy range of 5 to 100 MeV, particle beam current of 1 mA, and irradiation time of 1 hour to perform yield, activity of reaction, and integral yield for charged particle-induced reactions. Based on nuclear reaction processes, the obtained results in the production process of cobalt-60 were also discussed in detail to determine appropriate target material, optimum energy ranges, and suitable reactions.
Key words: particle accelerator, nuclear reaction, activity, yield
FULL PAPER IN PDF FORMAT (890 KB)