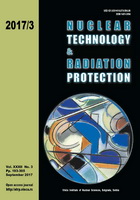 Vol. XXXII, No. 3, Pp. 193-305
September 2017
UDC 621.039+614.876:504.06
ISSN 1451-3994


Pages: 294-301

Authors: Peng Wang, Shu-Tao Huang, Ju Wang, Yong-An Zhao, Min Gao, Lun Wu,
and Heng Cai

Abstract


In this paper, based on information technology, a geo-information database was established and a geo-information data management system (named as HLW-GIS) was developed to facilitate data management work of the multi-source and multidisciplinary data been which are generated during site selection process of geological repository in China. Many important functions, such as basic create, retrieve, update, and delete operations, full text search and download functions, can be achieved through this management system. Even the function of statistics and analysis for certain professional data can be provided. Finally, a few hundred gigabytes of data from numerous different disciplines were integrated, stored, and managed successfully. Meanwhile, the management system can also provide a significant reference for data management work of related research fields, such as decommissioning and management of nuclear facilities, resource prospection and environmental protection.
Key words: high-level radioactive waste, geological disposal, geo-information database,
geo-information data management system
FULL PAPER IN PDF FORMAT (1.04 MB)