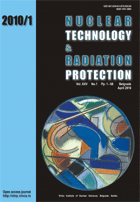 Vol. XXV, No. 1, Pp. 1-68
April 2010
UDC 621.039+614.876:504.06
ISSN 1451-3994


Pages: 62-67

Authors: Mahdi Sadeghi, Solaleh Seyyedi, Zohreh Gholamzadeh

Abstract

The extensive use of 64Cu (T1/2 = 12.7 h) as a positron and electron emitter radioisotope in recent years has ensured its potential to serve a dual role in the development of molecular agents in PET and radioimmunotheraphy drugs in oncology. The TALYS 1.0 code was used to calculate excitation functions for induced proton, deuteron and alfa-particles on 64Zn, 66Zn, 67Zn, 68Zn, 70Zn, 62Ni, and 64Ni up to 50 MeV. According to the data acquired by the TALYS 1.0 code, thick-target integral yield of the induced charged particles on the enriched targets was achieved.
Key words: 64Cu, TALYS-1.0, excitation function, integral yield
FULL PAPER IN PDF FORMAT (748 KB)